Broadband or Mobile Service with iPhone Monthly Plans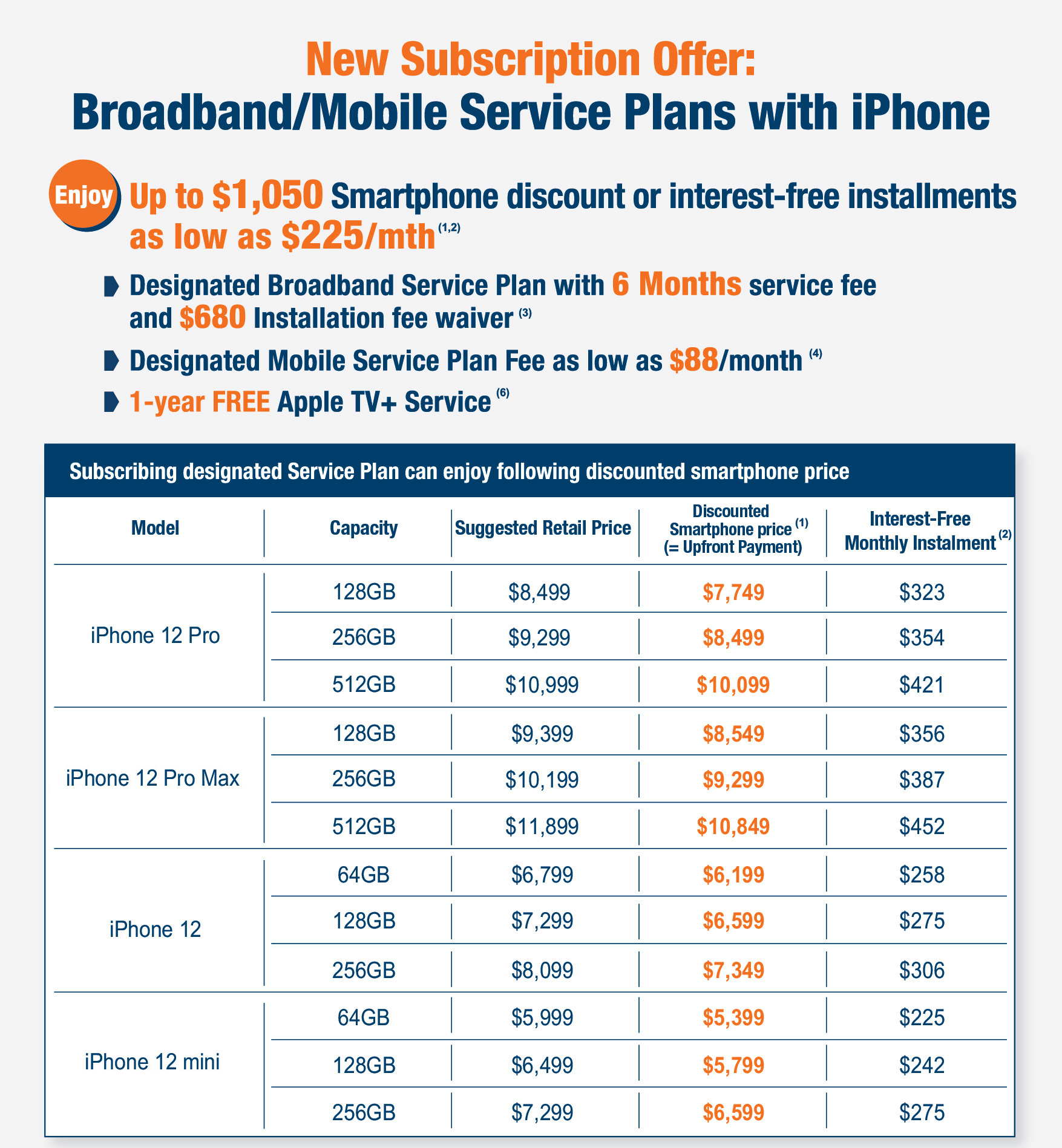 Access Plan will only be applicable to Subscriber whose service installation address is at designated residential area with no provision of HKBN broadband service within 120 days prior to registration.

1. Subscriber shall register for designated broadband or mobile service plan with a 24-month or above Minimum Commitment Period and purchase designated Apple product, in order to enjoy the Apple product discount. Subscriber must pay for the "Upfront Payment" when successfully register to related designated service plan with Apple product (Upfront Payment amount is subject to the chosen product model and service plan). The Upfront Payment is non-refundable and non-transferrable. Subscriber can choose to settle the payment of the discounted smartphone price by one-off transaction or interest-free instalment option. If the related designated broadband or mobile service plan is unable to be installed/activated successfully within 3 months after registration, HKBN will charge back the related Apple product discount on Subscriber's bill statement.
2. If Subscriber wants to use monthly instalment on smartphone, the registration must be conducted at designated HKBN Shop with designated bank credit card. If Subscriber registers the designated Services plan with Apple product through other sales channels, the payment of the discounted smartphone price will be made by credit card in full. Subscriber can choose maximum of 24 months instalment, and the actual instalment amount is subject to the designated credit card bank.
3. Designated broadband service plan can also enjoy the waiver of standard installation fee for once (Subscriber must prepay an installation fee first. The prepayment will be rebated to Subscriber's account in the 13th contract month.) and up to 6 months monthly fee waiver of the broadband service plan.
4. The monthly fee of designated Mobile Services Plan from $88 with $18 monthly administration fee. Subscriber who has successfully ported-in numbers to HKBN can enjoy the $18 monthly administration fee waiver.
5. If any service of the Plan is terminated, other service(s) included in the same plan will also be terminated. If the plan(s) is/are terminated within the Minimum Commitment Period for whatever reasons, Subscriber shall pay a total amount of the remaining special monthly fees within Minimum Commitment Period to HKBN as liquidated damages.
6. Starting from November 2, 2019, Subscriber can get a free one-year Apple TV+ subscription in the Apple TV App when Subscriber buys an eligible Apple device - and watch original stories from the most creative minds in TV and film. Only one offer per family. You can share your one year of free Apple TV+ with up to five other family members through Family Sharing. Offer must be claimed in the Apple TV app within three months after first setting up your new device. To see the offer appear, you will need to sign in with your Apple ID on your new device. If you've purchased your new device before the launch of Apple TV+ on November 2, 2019, you will get three months to redeem your one-year of free Apple TV+, starting November 2, 2019. Upon claiming the offer, you commit to a HKD$38 monthly subscription that starts after the one-year free trial. Plan automatically renews until cancelled. You can cancel at any time in Settings at least a day before each renewal date. If you cancel before the end of the one-year free trial, you and your family members will immediately lose access to Apple TV+ and the remainder of your one-year free trial. You can't reactivate this trial.
7. The relevant services, service plans and offer are subject to relevant Terms and Conditions, for details please refer to hkbn.net/tnc or speak with our salesperson. Promotion period may adjust according to response, HKBN reserves the right to change or cancel the offer at any time without prior notice. In case of any disputes, the decision of HKBN shall be final and conclusive.