406 Co-Owners Invest in HKBN's ICT Powerhouse Future
(Hong Kong – 30 August 2023) HKBN Ltd. ("HKBN" or the "Company"; SEHK stock code: 1310) announced today that its amended Co-Ownership Plan IV ("CO4") has received overwhelming participation from senior leaders reaching 88% of the top 70 Associate Directors to CEO and Executive-vice Chairman. In total, 406 Co-Owners have invested by putting their own hard-earned family savings for "skin-in-the-game" alignment with shareholders to drive HKBN's long-term growth via transcendent from a telco into an ICT Powerhouse.
Each Co-Owner has opted to invest between 2 and 24 months of salary, which is tantamount to multiple years of their personal savings. This level of leadership participation is what truly separates HKBN apart from its peers: in every facet of HKBN's operations, senior leaders, managers and supervisors have their "skin-in-the-game" – like eagles guarding their nests – to make sure the business sustainably grows and evolves for success.
Derek Yue, HKBN Co-Owner and Chief Financial Officer who joined in June 2023 shared his excitement about becoming a Co-Owner "Co-Ownership is a CFO's wildest dream come true! Imagine this: You're not just a Co-Owner of any company, but of a Purpose-driven one with an extraordinarily resilient business model that's also laser focussed on Talents. As a Co-Owner, I play an active leadership role in shaping my HKBN's future, to help drive our transcendence from a telco to an ICT Powerhouse."
Sophia Yap, HKBN Co-Owner and Chief Legal Officer exclaims, "Co-Ownership is terrific in aligning goals and igniting passion to innovate and deliver best results as one formidable team. Action speaks louder than words. My family fully supports me in investing a 7-digit figure of hard-earned savings into, and to grow with, HKBN."
NiQ Lai, HKBN Co-Owner and Group CEO shares, "I have gone all-IN and topped up to my maximum limit of 2 years of my gross salary…don't listen to my words, rather follow my bank account."
In contrast to legacy practices that grant free stock options to a handful of senior executives, HKBN's CO4 is open to all supervisors-and-above-level Talents. Like no other in its industry, HKBN's senior executive alignment is unrivalled in terms of the skin-in-the-game profile by seniority.
HKBN CO4 take-up rate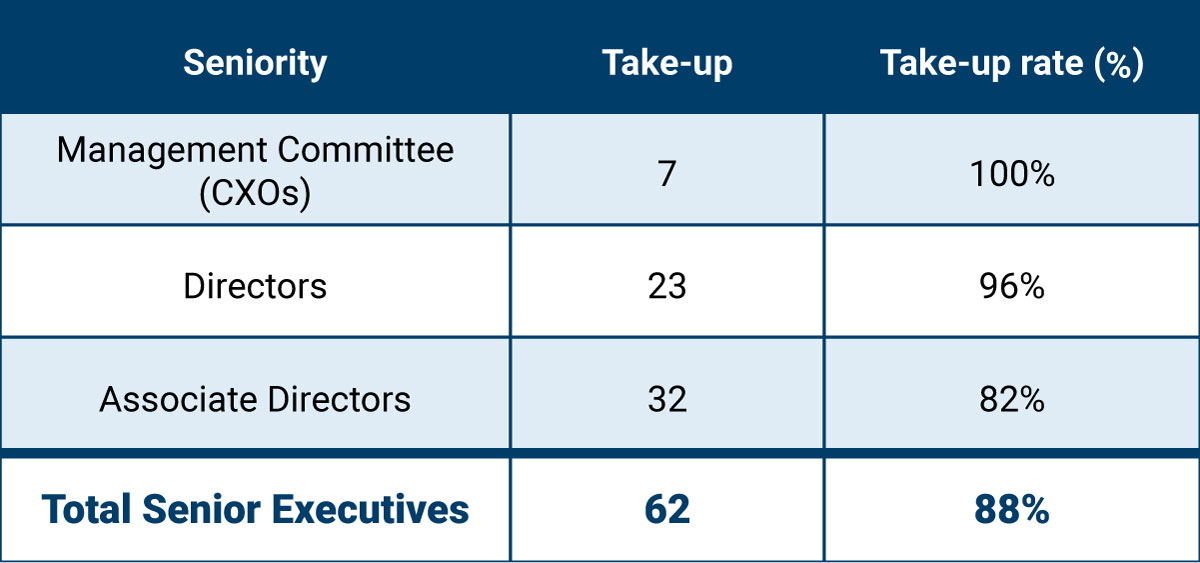 The following are a sample of what HKBN's Co-Owners think:
"Being a Co-Owner has changed my mentality. Even though the amount I invested in the company isn't large, every time I make a decision, I'll think about whether it's good for the company. This is because our interests are aligned."
James PL Chan
Co-Owner & Associate Director – Field Service Engineering, Enterprise Solutions
"Joining the Co-Ownership plan has made me very proud. It allows me to align my own interest with the company's goals. I am no longer just an employee, but that I'm working for mutual benefits with the company. As a Co-Owner, I think from the company's perspective, and I understand its decisions far better."
Raymond Lui
Co-Owner & Assistant Unit Manager – Residential Acquisition, Residential Solutions
"I have been a HKBNer for 20 years, and I've grown with the company. I recognise the core values and culture of HKBN and I believe in skin-in-the-game. The work that I do fully contributes to the business's growth. Besides salary, as a Co-Owner, I can also share the company's profit gains. Let's keep growing together."
Cherrie Ng
Co-Owner & Senior Unit Manager – Operation Support, Enterprise Solutions
"I have a stronger sense of belonging and have developed new ways of thinking in a broader perspective. I treat the company's business as that of mine. Mentally, I see it as a long-term cooperative and win-win relationship rather than a short-term employment relationship based only on salary."
Wang Xiao Jian
Co-Owner & Senior Account Manager – China Business, JOS
"Once you become a Co-Owner, your mindset towards handling matters changes significantly. You develop an entrepreneurial mindset where you no longer focus solely on your own role but instead have a broader and more long-term perspective."
Yoyo Szeto
Co-Owner & Assistant Manager – Talent & Organization Development
"Having full confidence that we'll achieve the company's goals is the primary reason I decided to join this scheme. After becoming a Co-Owner, I have truly felt a difference inside me, especially when working on deals or handling customers. The sense of that we're all 'sailing in the same boat' is a significant change for me."
Jackal Chau
Co-Owner & Vice President – Service Delivery, Enterprise Solutions
For the full list of HKBN Co-Owners, please refer to the list below:
https://reg.hkbn.net/WwwCMS/upload/pdf/en/co-owner_list_ENG.pdf