HKBN Announces FY23 Annual Results
Steady Year-on-Year Revenue Growth
Accelerated Transcendence from Telco to ICT Powerhouse
(Hong Kong - 2 November 2023) HKBN Ltd. ("HKBN" or the "Company"; SEHK stock code: 1310) today announced the consolidated results for the year ended 31 August 2023 ("FY23"). Despite prevailing global macro-economic uncertainties, a slower-than-expected recovery in cross-border business, and continuous inflationary pressure, HKBN has achieved steady revenue growth and accelerated its ongoing transformation from a telecom enterprise to a leading ICT powerhouse.
Key highlights include:
Revenue increased year-on-year by 1% to HK$11,692 million, mainly due to a 9% surge in Enterprise Solutions revenue to HK$4,825 million as the Company's ICT transformation gained momentum and higher revenue in wholesale IDD. This growth was achieved despite an 18% year-on-year decline in Enterprise Solutions related product revenue of HK$1,934 million, which reflects a broader downturn in demand for office computer equipment following the surge in purchases during the COVID period.
EBITDA (Adjusted) decreased year-on-year by 12% to HK$2,290 million, mainly due to the increase in network costs and costs of sales by 5% to HK$7,525 million. This increase was linked with the cost of wholesale IDD and was offset by the decrease in cost of inventories. Fixed price subscription contracts are expected to enhance the EBITDA over the contracts' lifespan, which are typically 24 months and longer.
A loss of HK$1,267 million was reported, which includes a 194% increase in finance cost of HK$702 million, along with a non-cash impairment on goodwill of HK$1,200 million.
The Company considers adjusted free cash flow ("AFF") to be a good indicator of its cash generation, which is why it bases dividend payout ratio on this metric, rather than non-cash accounting metrics. Consistent with HKBN's stated dividend policy of no less than 75% of AFF, the Board has recommended the payment of a final dividend of 20 HK cents per share (FY22: 20 HK cents per share), resulting in a 33% year-on-year decrease in full year payment to 40 HK cents per share (FY22: 60 HK cents per share).
The share closing price of the Company as at 1 November 2023 was HK$2.73, which represents 15% dividend yield on our stock.
William Yeung and NiQ Lai, Co-Owners of HKBN said, "FY23 marks a crucial transition year in our journey to become an ICT Powerhouse from FY23-25. Despite COVID-related challenges delaying our business integration, we have made meaningful progress. We have successfully brought on board industry leaders to fuel our transformation, positioning us to effectively capitalise on new opportunities. Concurrently, our residential business remained a solid foundation. By continuing to execute Infinite-play strategy and enriching our value bundles, we are fortifying customer loyalty and driving sustained growth in Average Revenue Per User (ARPU)."
Enterprise: Disruptive innovation spurs new business growth
Enterprise Solutions revenue increased year-on-year by 9% to HK$4,825 million. Within this, core telecom revenue grew by 11% to HK$3,763 million, and SI services revenue rose by 2% to HK$1,062 million. Revenue backlog generated from new contracts signed, typically with an average contract length of 2-to-3 years, created strong momentum and well offset the decline in revenue experienced due to a reducing backlog during FY21 and FY22. In FY23, the Company introduced AegisConnect and IT.simplified, two disruptive solutions which add layers of value and business-critical functionality to its core telecom connectivity. Along with other offerings in HKBN's portfolio, these solutions cater to growing market demand for high-quality IT services, reinforcing HKBN's position as a one-stop platform for digital transformation solutions in the post-COVID era.
To capitalise on the opportunities arising from the border's re-opening, HKBN is strengthening its relationships with leading vendor partners to introduce new solutions and capture new accounts. Additionally, the Company is deploying more sales resources in the Greater Bay Area ("GBA") and Eastern China region to expand coverage and drive new growth.
Residential: Amplifying Infinite-play to boost ARPU
Residential Solutions revenue remained stable at HK$2,393 million (FY22: HK$2,433 million) as the Company continued to execute its Infinite-play strategy to expand the range of its service offerings. Residential broadband subscriber numbers recorded a year-on-year increase of 3% to 920,000, sustaining significant market share amidst intense competition. Throughout the year, HKBN made significant progress in continually upgrading its service offerings to customers, with a focus on increasing uptake of home Wi-Fi solutions and higher bandwidth upgrades. Notable launches in FY23 include the world's first residential Dual Guarantee for fibre broadband and Hong Kong's first-ever post-paid Global SIM roaming data service. In a strategic effort to redefine the home entertainment experience, HKBN collaborated with premium partners such as Netflix, Disney+, myTV SUPER, and iQIYI. Plans are underway to enhance customer experiences by expanding the residential ecosystem with a variety of value added services and solutions, such as Wi-Fi 6 Gateway, Wi-Fi-as-a-Service, personal cybersecurity and more. By delivering outstanding customer experiences, HKBN's long term goals also seek to foster increased customer loyalty and drive long-term ARPU growth.
William Yeung and NiQ Lai concluded, "As we navigate the evolution of the Telecom industry, we're not merely surviving – we're thriving, and expanding into new territories. Leveraging our robust network and state-of-the-art SI technology, we're reshaping the connectivity landscape. This strategic pivot places us at the forefront of the digital era, fully equipped to deliver unmatched value and innovative solutions to our customers in Hong Kong and China, particularly in the Greater Bay Area."
For more details of HKBN's annual results in FY23, please refer to the announcement:
https://reg.hkbn.net/WwwCMS/upload/pdf/en/e_FY23_AnnualResultsAnnouncement.pdf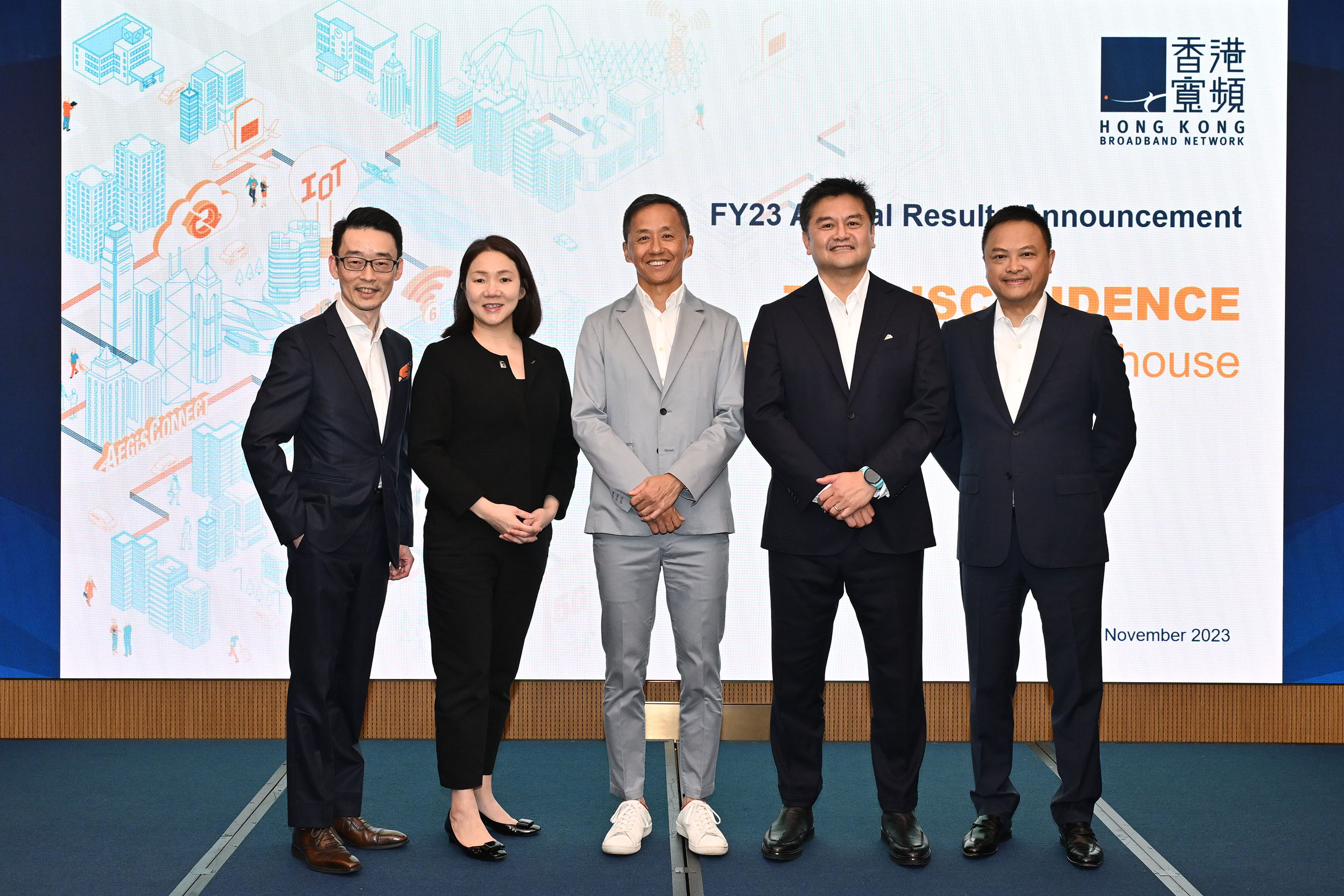 From left: HKBN Co-Owner and Chief Financial Officer Derek YUE, HKBN Co-Owner & Chief Executive Officer - Residential Solutions Elinor SHIU, HKBN Co-Owner & Executive Vice - Chairman William YEUNG, HKBN Co-Owner & Group Chief Executive Officer NiQ LAI, HKBN Co-Owner & Chief Executive Officer - Enterprise Solutions William HO